In 2014, MoMA's education, curatorial, graphic design, exhibition design, and marketing departments collaborated to develop an interactive learning space adjacent to the exhibition The Paris of Toulouse-Lautrec: Prints and Posters. This is the third interactive space we've developed in relation to an exhibition, following the success of Performing John Cage and the Polke Pop-Up Activity Space. This café-like space offers activities and resources to connect participants with Lautrec's life and artistic process using both unfacilitated and facilitated approaches. Three postcard activities share information about Lautrec's life, making art, going to cafés, and Paris's many nighttime entertainments, then invite you to make connections to your own life—drawing your ideal work environment, your idea of a fun night out, and your favorite meal or restaurant. Twice a month the Museum offers drop-in Sketching from Life sessions, led by an educator and featuring a model wearing Parisian, belle époque-inspired costumes.
The drawing sessions have been great fun to observe, as the ever-present group of onlookers attests to, especially as no two are alike. The variety of educators, models, and participants creates a unique experience each time. Attendance for each session has ranged from 15 to 70 participants at the extreme ends of the spectrum but generally consists of about 40 people. The majority of visitors stay for the entire session, and there is a devoted group of repeat participants. One of the regulars to these drawing sessions (also was a regular to MoMA Studio: Beyond the Cut-Out) has put together an impressive book of her sketches. While the majority of participants are female, the participants represent a diverse group of local and international tourists, members and nonmembers, various cultural backgrounds, etc., and varied artistic abilities, ranging from those who have never sketched before to those who are passionate about drawing.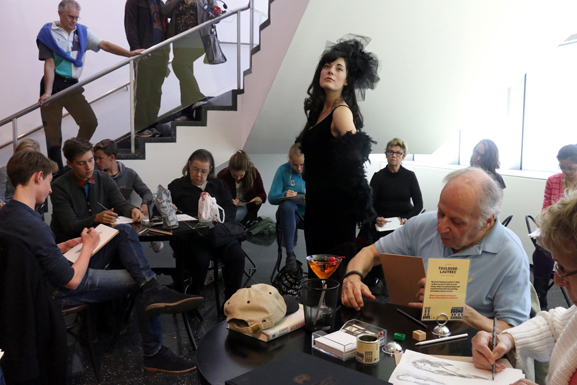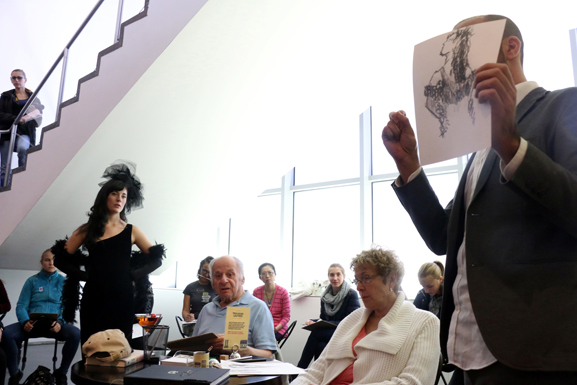 During the drawing sessions, the facilitator guides and challenges participants. For example, participants are asked to draw for three minutes focusing on a detail of the model's face or costume without lifting the pencil off the page, or to spend six minutes capturing the model as she makes a repeated gesture or movement. After each challenge, the facilitator invites participants to share their work with each other while they point out the various techniques used and makes connections to Lautrec's own artistic practice, which included sketching at cafés and during cabaret performances. It's exciting to see how people respond to the work of complete strangers. One of my favorite challenges is when the facilitator has participants face one another to create a sketch of the other person. More than one participant has commented on the "camaraderie felt among participants" and "how it was really great to sketch with people who I've never met before." You can feel a sense of community develop over the session. The best part is everyone can draw and you don't even need to have sketched in your life to participate. One participant said that she liked "the open-to-all nature, and the close association to a specific exhibition, without alienating art jargon." As one participant explained "the thoughtful variety of approaches to drawing were carefully tailored to all skill levels." It's really uplifting to hear participants clap at the end of a session to thank the facilitator and model, and to hear comments such as, "This is why I support MoMA!"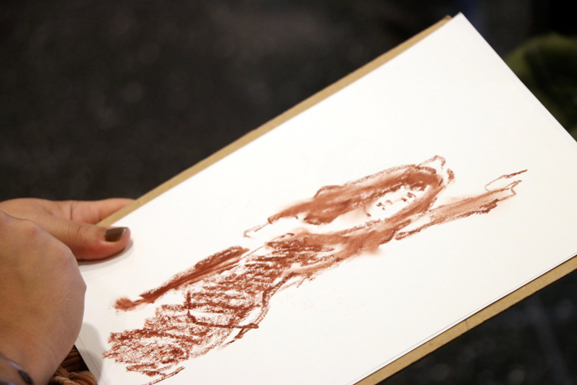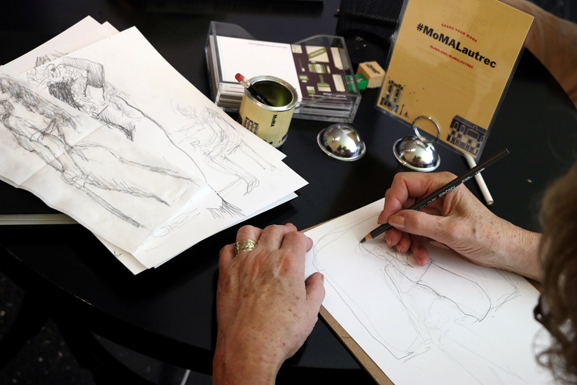 Survey responses to date indicate that participants are happy for the opportunity to create, free of charge at the Museum. Participants have expressed that the activities, resources, and facilitated drawing sessions provide direct and enhanced understanding of Lautrec's life, work, and process. They appreciate the drop-in nature of the activities since they do not need to commit to staying for the whole session, though many do. The opportunity to share their creations via social media and have their work displayed in the space adds value to their experience. Programs like these not only reduce the chances of museum fatigue but also provide a way for visitors to engage with art and ideas in meaningful ways, and perhaps most importantly offer a chance to connect with others. Having both facilitated and unfacilitated activities in the Museum not only ensures that space is well used, but also expands the possibilities for the types of experiences visitors can engage in, ranging from introspective to social.
If you haven't been to one of the Lautrec drawing sessions yet, don't worry because we have several more scheduled (with the next one happening on February 10 from 2:00–3:30 p.m.), and if you have already participated we hope to see you again soon!